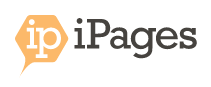 iPages is one of the UK's most flexible eCommerce & Inventory Management Platforms. iPages is an order, inventory and content management system, with a branded website presence. Since iPages' inception back in 2003 the platform has grown and developed to be the most affordable, and comprehensive, eCommerce Content Management System available, used by hundreds of businesses nationwide.
Hosted, supported and developed in the UK, iPages was created out of a passion to provide companies with an integrated eCommerce solution, that didn't cost the earth. Knowing the challenges faced by smaller companies, the iPages platform was developed to help businesses compete online, whilst managing much of the day to day business. This facilitated time for the companies to focus on other tasks such as marketing and sales, and to have a holiday as well!
By being in control of our own software, iPages benefits from its seamless integration. There is no need to buy plug-ins developed by third-parties because the platform was built so that every part of the admin area works in harmony.
iPages is being constantly developed and upgraded by the Khoo Systems team, and we are proud to have a large portfolio of eCommerce clients. For more information about iPages, head over to www.ipages.biz.